SERVICES
Grievances Galore

Numerous complaints against banks indicate poor services

RAJESH GAJRA
14 Nov 2008
Poor Show: SBI topped the complaints list (Pic by Sateesh Nair)


Dealing with banks is not always a pleasant experience for customers. Most disgruntled clients either bear with it or change their banks on a bitter note. But some take a step forward and lodge a complaint with the banking ombudsman. Going by the Reserve Bank of India's (RBI) data on customers' complaints against 83 scheduled commercial banks with the ombudsman, 34,500 complaints were lodged as of 27 November 2007. The top five categories were credit cards (7,669 complaints), deposit accounts (5,578), non-housing general loans (4,169), remittances (3,919) and charges without prior notice (2,527).

Lenders and borrowers make up a bank's customer base. As a lender to a bank, you invest your money in deposit accounts that can earn interest and that can be withdrawn or transferred whenever you desire. As a borrower, you take a loan for your business, home or general purpose, or you could have outstanding transactions on your credit card. Worldwide, most customers experience lukewarm response on problems with their deposit accounts as lenders, and as borrowers they receive aggressive response on problems in their repayment of loans.

On the other hand, serving customers isn't an easy task for banks either, given the diversity of their client base. What may be good for one may not be suitable for another. Take a bank that offers smooth internet banking but poor customer service. It may not be an issue with a net-savvy young or middle-aged customer who doesn't have the time to visit a branch. However, it may not be of any use to a senior citizen who relies more on visiting the nearest branch. So, the bank has to understand the need of the different segments of its customers.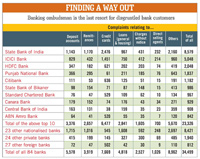 The above number of complaints
are aggregate received by the
banking ombudsman as of 27
November 2007
Source: RBI Report on Trend and
Progress of Banking in India,
2006-07

Customer Segments
Most senior-citizen customers do not use either home or internet banking services. They rely more on visiting the nearest branches or sometimes even the ATMs. Here, the nationalised banks score over the private ones, feel customers. Holding mostly savings and deposit accounts, their demands are mainly to enquire about their account balance, deposit a cheque or withdraw money.

Young executives of private banks have the advantage of fresh approach to solving problems of senior citizens, but suffer from lack of patience in dealing with their queries. Senior citizens seek small concessions in procedures that private banks are wary of giving.

K. Rengaswamy, CEO of his own Mumbai-based firm Amal Infosystems, has high regard for personalised services of nationalised banks. "If you have a problem, there is a hierarchy in the nationalised bank's branch that deals with it, unlike in private banks where the highest you can go to is the floor manager of the bank's call centre who knows little about banking."
But not all agree that nationalised banks' services have improved. Joy chandran, a technician in a private company at Mumbai's Santacruz airport complains about the SBI branch at Vakola, "There is a long queue just to get in and senior citizens are made to stand in the same queue." The branch's chief manager, S.K. Kulkarni, says "Yes, first week of a month is busy, but that doesn't mean that we are not working enough. Anybody can open a savings account with SBI for just Rs 500 while the minimum amount is Rs 5,000 in other banks, so we have to cope with more customers."

Not that private banks are customer-friendly all the time. Sharmila Phadke, a freelance writer, went through a harrowing time trying to get internet banking activated with the largest private sector bank in the country. It took her three weeks of following up with call centre executives and branch-level officials to sort out her problem. "The executives at the call centre and the branch are quite dumb," she says. "I got fed up. It was only when I told them I want to close the account that they acted quickly and solved the problem."

The banking system even discourages small and medium-sized entrepreneurs who require business loans of less than Rs 20 lakh. "Foreign banks don't look at loan amounts below Rs 30 lakh and they lend to you only through over-draft facility," says Rengaswamy of Amal Infosystems. "Either they don't have the skills to evaluate a business proposal or they don't want to." Rengaswamy took an over-draft with Oriental Bank of Commerce as it was receptive to his needs and its service charges were lower than private banks.

Credit Card Concerns
Credit card issuance and service is an area most customers have had unpleasant experiences with banks, both nationalised and private. Cards sent that were not asked for, cards billed for that were never received, data errors showing double debits or higher outstanding, bad treatment from recovery agents — the list is endless.

The menace of recovery agents hired by banks extends to all retail loans. Despite having the legal recourse of Securitisation and Reconstruction of Financial Assets and Enforcement of Security Interests Act (SARFAESI), Debt Recovery Tribunal and civil courts, banks resort to behaviour that, many say, is offensive under the Indian Penal Code.

In August 2005, an ICICI Bank car loan borrower Someshwari Prasad, who was an advocate with Allahabad High Court, was forcibly taken by the bank's recovery agents to the branch and beaten up by bank officials. Prasad filed an FIR and had the bank officials and collection agents arrested. The Allahabad High Court raised the question "whether ICICI Bank or its collection agency can take coercive action against the borrower by snatching the vehicles or taking possession of the property without following the procedure established by law and take further coercive action by locking the individual borrower in the bank or at some other place?"

Clearly, RBI has not been forceful enough to direct banks to follow the law of the land when it comes to recovery of dues.

With inputs from Satheesh Nair

rajesh(dot)gajra(at)abp(dot)in

(Businessworld Issue 18-24 Nov 2008)